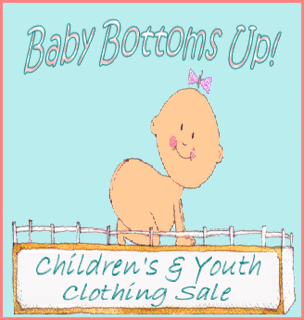 BABY

BOTTOM'S UP


This is a group of bonanzle sellers with a
online consignment sale, prices ranging from 10-50% off. Check out the 25-35 sellers.
This has got to be the biggest baby sale ever. There was 35 sellers this last week and more to come next week.
If you are looking for any thing related to children or baby items then this is the place to be every Thursday.
Items range from baby clothing, toys, formula to older kids movies, games and clothing. We have new, used and handmade items from various, well respected sellers.
Here is a preview of last weeks items to give you a idea of what may be listed in the weeks to come. Watch the slide show on the top right of this blog. Many sellers are adding items daily to get ready for Thursdays big event.
Sale begins 12 midnight on Wednesday Morning and ends at 12 midnight on Thursday morning PST time.
Make sure you check out each booths coupon codes for the week so you can enter them at check out and save even more then the already low price.
Here is the link to the thread with all sellers involved and their booth url. Click here

A big thanks to
KatiesBug-tique
and
CALIFORNIATREASURES
for setting this game up.
Prizes were donated by
KatiesBug-tique
,
CALIFORNIATREASURES
,
hughestees
,
Wholesale_Jewelry
,
granny7x
Thanks a million to some of the best logo makers that donated their time and logo for Baby Bottoms UP Game~~~~
Dustie~~
http://www.bonanzle.com/booths/dustie
Rho~~
http://www.bonanzle.com/booths/rho
Please feel free to add you own experience with bonanzle or any comments or suggestions that you have.
Get High Quality One-Way Links Search Engines Love Fast And Free Advertising. We Have Located Over 100 Forums That Encourage Advertising On Their Sites. Many Of These Sites Have High Pr Rankings And Receive Vast Amounts Of Traffic.
Click Here!